Senseo Single Serve Coffee Machine Reviews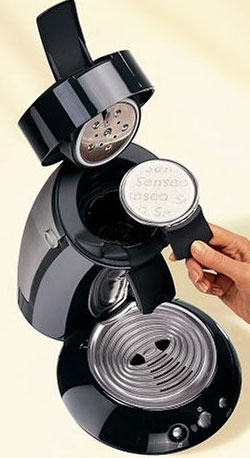 With the faint appearance of a coffee worker bent over to pour coffee into two cups, the Senseo HD7810/65 Single Serve Coffee Machine is a cheap, attractive, and surprisingly well-made machine.

Using a 1450-watt boiler that can brew a 4-ounce cup of coffee in thirty seconds, or two 4-ounce cups (or even one 8-ounce mug) in sixty seconds, the Senseo coffee machine is extremely efficient. With two pod holders -- a shallow holder which holds one coffee pod for one cup, and a deep filter which holds two pods for two cups -- the machine makes the whole coffee making process delightfully simple. Simply pour some water into the reservoir, insert the pods, push "on" and select the brew and size you want -- and you've got yourself some coffee. Users can brew up to five 4-ounce cups per one water fill, and all the parts (pod holders, reservoir, coffee spout, and so on) are dishwasher safe -- making the whole clean-up process as fast as the coffee making process.