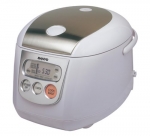 You can't ever make rice quite like the restaurants. It's always a little overcooked -- a little too clumpy, sometimes it just tastes bad, and sometimes it tastes almost good enough. The Sanyo ECJ-D100S 10-Cup Micro-Computerized Rice Cooker/Steamer makes it so every bowl of rice is good -- at least as good as the restaurants, anyway.

The 10-cup micro-computerized cooker is easy to use. Fill the inner pot, select the type of food, press the cook key -- and here's the hard part, listen for the timer to tell you it's ready. The multi-menu selection controls the temperature for the cooking of a variety of rices -- including white rice, rinse-free rice, mixed rice, sprouted brown rice, sweet rice, quick rice, brown rice, and even soup and porridge. The slow-cook option allows you to cook soups and stews for up to eight hours, giving them a professional and flavorful appeal (not to mention starving you.)

An especially handy option is the "keep warm" function, which, as the name suggests, keeps the cooker warm after whatever its cooking is complete. It can also reheat things that have waited far too long to be eaten. Other features and accessories include an LCD clock, a 24-hour preset timer, a non-stick inner pot, a steaming tray for vegetables, a measuring cup, a non-stick spatula (and who doesn't want a spatula that doesn't stick?), and a multi-language instructional manual with recipes in several languages -- including English, Chinese, Japanese and Korean.

The only problem we could scrounge up was a customer complaining of a strange "chemical smell" coming from the cooker. As no other similar complaints have been voiced, we can only assume that it was the customer, a faulty cooker, or possibly chemical rice.

Besides that, the rice cooker makes simply fantastic rice. For a very fair price, it's a great addition to the kitchen and your stomach will thank you kindly for the purchase.

Things That Make It Special:

* 10-cup micro-computereized cooker.
* Uses fuzzy-logic technology and a 24 hour timer.
* Titanium-coated, extra-thick, 2 1/2 non-stick inner pot.
* Uses multi-menu selections: slow-cook, keep warm, and reheat functions.
* Includes a steaming tray, measuring cup, non-stick spatula, instructions and recipes.
* Almost good enough to open your own restaurant with. Almost.