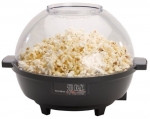 Any good movie deserves equally good popcorn -- and since not all movies are watched in theaters, homes need some sort of machine to recreate the experience. The West Bend Stir 82306X Stir Crazy 6-Quart Popcorn Popper is specifically for that. The Popcorn Popper pops popcorn faster than Peter Piper packs a pack of pickled peppers -- and he is known to do that rather fast.

Specifically designed to make every single kernel count, the Stir Crazy Popper not only provokes the feeling of some sort of crazy popcorn party (that's just stiiiir crazy!) but can also pop roughly 6 quarts of popcorn in five minutes. It stops automatically when done -- so no burnt popcorn for you, and a sponge will clean everything off in less time than it takes to say the previously mentioned tongue-twister. Finally, the cherry on the popcorn cake, is the cover also serves as a bowl -- bringing our use of technology to an all-time high.

Less than $30 dollars, the Stir Crazy Popcorn Popper is so good and so cheap that there are simply no complaints about it. It's a great accessory to any kitchen, and the very thought of the thing makes us want popcorn.

Things That Make It Special:

* Motorizing stirring rod pops every kernet.
* Pop 6 quarts of popcorn in roughly 5 minutes.
* Plastic cover doubles as a bowl.
* Bowl covers as a plastic cover.
* Popping Popcorn on the Popcorn Popper automatically makes users better at tongue-twisters.