Jura Capresso Impressa F9 Reviews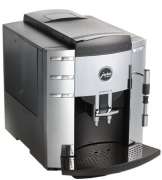 Have an expensive coffee habit? How expensive is it? Will it end up costing you roughly $1,799.99 at the end of the year? If yes -- then the Jura-Capresso Impressa F9 coffee and espresso center is for you. It's also for people who are willing to spend $1,799.99 on coffee.

It does make great coffee, though. And every feature (and this thing has a lot) is designed specifically to enhance your coffee-drinking experience. What're some of these features? Well, for one, it has internet connectivity -- yes, you did read that right -- internet connectivity. Why? Well, you're not paying nearly $2,000 dollars for nothing, are you? The connectivity enables the user to enter parameters into a PC, adapt them to your own personal taste, and then upload it back to the machine. Users can also get unique online help if anything happens to go wrong. Unnecessary? Maybe. Cool? You betcha.

What else does it do? Brews, and grinds, and steams and everything else you want a coffee-maker to do. Fully automatic, with a touch-screen, it is highly customizable -- another words, if you love your coffee (and if you're buying this machine, you're practically married to coffee), you know exactly how you want it made and the F9 lets you play with the coffee strength, water amount, temperature and even steam quantity.

The F9 uses a 15-bar pump and a single 1450-watt ThermoBlock heating unit. It also has several self-maintenance features, such as automatic rinsing, cleaning, and de-calcifying. The water tank holds 64 ounces, while the bean tank stores 7 ounces -- and hey, if you speak Spanish, or French, or a number of other languages -- the F9 has a multilingual display, so you don't even have to speak English to like it.

Here are a few other features we haven't mentioned: it can brew two cups in one process, it includes a height-adjustable coffee and cappuccino spout, a 2-level replaceable foaming nozzle, and it uses something called "cup illumination" – which is exactly what it sounds like – and much, much more.

So how does the coffee taste? While it might not taste like two thousand dollars, it really is delicious, well-made, and easily rivals any Starbucks or Peet's coffee that you might buy.

So, what's the problem with it? Well, the price tag is so high it'll make you choke on the coffee you just made. At a price this high, you better love your coffee -- and if you do, then the F9 is definitely a good investment. You could buy an HDTV or a used car -- but why not? If you can afford it, and have constant dreams of bathing in hot, delicious, creamy coffee -- then this is a great machine, and will fulfill all (and we mean all) your coffee fantasies.

Things That Make It Special:

* An espresso/coffee machine that nearly costs $2,000 dollars.
* 1 year warranty.
* Measurement: 11 x 16 x 12 1/2 inches.
* Touch-screen technology allows customization of cup size, strength and temperature.
* Commercial conical burr grinder.
* Stainless-steel-lined ThermoBlock unit.
* Uses an integrated pure water system which cleans brewing water.
* Dual frother for steaming and frothing manually.
* Coffee so good, with a price tag so high -- it will make you steam and froth manually also.