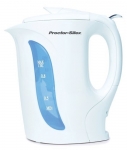 If you've longed to boil a quart of water extremely fast, then you're reading the right review. The Proctor Silex K2070 1-Quart Automatic Electric Kettle does just that -- that's right, it boils water.

But you don't need to light a fire, or wait for the screeching of the teapot -- you simply pour the water into the kettle, attach the detachable cord, plug in -- and you'll have some boiling hot water faster than you can even imagine. Oh yes, it's that fast. The kettle itself is chic, brilliantly white, and quiet -- it's almost like an iPod, except instead of playing music and being hip, it helps you make tea and coffee.

The kettle also includes water-level indicators for convenient filling, an easy-open lid with a security lock so you don't spill boiling hot water on yourself, and a non-spill spout which, as spouts often do, helps you pour your water. The unit even has a feature called "boil-dry protection" which keeps it from burning itself when there is no water left.

The unit is small, works fast and extremely easy to use. It's a great addition to any office, dorm or kitchen, and there are simply no faults with it that we can find. If you're tired of teapots and want a quicker way to boil your water -- this kettle will make your day and make your tea.

Things That Make It Special:

* 180-day warranty.
* 1000-watt electric kettle.
* Uses a detachable cord and a nonspill spout.
* Automatic shut off.
* Boil-dry protection.
* Immersed heating element.
* Uses dual water-level indicators and an easy-open lid with security lock for safety.
* Includes features that will do everything in their power to prevent you from badly scalding yourself.