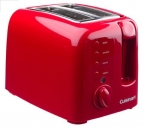 We like toasters. We like the way they're shaped, we like the way they pop food out, and we even think there's something amusing about them, though we can't exactly pinpoint what it is. The Cuisinart CPT-120R Electronic Cool Touch 2-Slice Toaster is red. Oh, sure, it has some cool features, but it is also, more importantly, red. There's something about red that makes people want to own it. We all want red sports cars, red iPod's (when are those going to come out?), and of course, red toasters. They're just so... shiny.

But we digress. The Cool Touch Toaster does more things than a toaster should be allowed to do. It has nine levels of browning control, extra-wide (1-1/2 inch, to be precise) slots that automatically adjust to accommodate everything from bagels, to buns, to muffins, to other toasters. It's also specifically designed to sit either sideways or face forward on a kitchen counter -- so you can either catch toast while it's flying toward the sky, or catch it when it's flying toward you. A high-rise carriage allows you to easily remove smaller items, and a cord wrap along with the slide-out crumb tray makes it easy to store away and clean.

A touchpad control allows users to cancel, reheat and defrost -- plus, there's a three-year limited warranty, so users have three years to break it.

All in all, it's a toaster. It doesn't fly, it doesn't fight crime, but it's red, and it's cool, and it somehow manages to look both futuristic and retro all at the same time. It's fairly priced -- and if you're looking for a stylish toaster, well, by all means, this toaster's for you. After all, "cool" is in its product name.

Things That Make It Special:

* It's a red toaster.
* Includes a 3-year limited warranty.
* Compact.
* 2-slice toaster with LED indicator lights.
* 9 brownling levels.
* Touchpad control has buttons to: cancel, reheat, defrost, and access bagel settings.
* Extra wide slots (1 1/2 inches) automatically adjust to accommodate muffins and bagels.
* Included: high-rise carriage, slide-out crumb tray, convenient cord wrap, and an instruction booklet.
* Like we said, it's a red toaster -- we really can't think of anything else.